Why this platform?
We opted for the Australian platform www.chuffed.org because they focus mainly on non-profit campaign and don't charge any compulsory fee. So, people donated to Chuffed when donating to our project.
Positive feedback: easy to set up, no compulsory fee for donors, all donations go to you
Negative feedback: only a few countries and currencies, the standard donation for Chuffed is high and the way to change is tricky so most of the people just accepted the proposed amount.
Who is behind the campaign?
Many hands have participated since the initial idea born in a random WhatsApp conversation. Let's say it really started when Ariane Testori came with her camera to Ecopark and met Praathana with her pencils. Together they worked on the video.
The written proposal was put up by Aurélie Krummenacher.
When the first workaway volunteer Marine Gachet arrived in Ecopark, we launched the campaign and she took care of all the social network.
Then, Laurent Hayoz joined the team for the divulgation of the campaign in his network.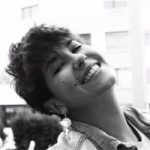 Why this strategy?
Obviously, we needed funds to do something. But plastic recycling is also about raising awareness among the local population. Doing this campaign was a way to attract attention and show that we are motivated.
It was also a good way to synthetize our ideas and make a proper planning. Let's say it made everything serious, as we know that we have to be up to the task when our friends, family and others gave us their trust.
So, it's a good exercise. Exhausting but good.