Have look on https://chuffed.org/project/antennaecopark
Our project : local community development through plastic waste
How to turn the plague of plastic waste into an opportunity for the local communities in Southern India?
Plastic is everywhere, in the field, the road side, on the river shore, in the sea and in front of people's house. We figured out that the only way to reverse this situation is to turn plastic waste into valuable things.

We work directly with the local communities, especially children and women. They already collect the material, and now they will be able to learn how to turn plastic into raw material, and design the object adapted to their needs.
Our idea is to teach them to use simple machine to make useful objects. It is an open door to give awareness about plastic, while creating an income generation activity.
We thrive to find a model that works, show the example and spread the words for it to be duplicated in the part of the world where people lack economic opportunities but don't lack plastic waste.
What do we need?

PHASE 1: Build the machine

We need a shredder, an extrusion, a compression and an injection machine. To build these 4 machines at the lowest cost, we have a partnership with the National Institute of Technology, one of the best scientific university of the country. The students will participate to the machine-building and we will co-develop several research projects involving the local communities.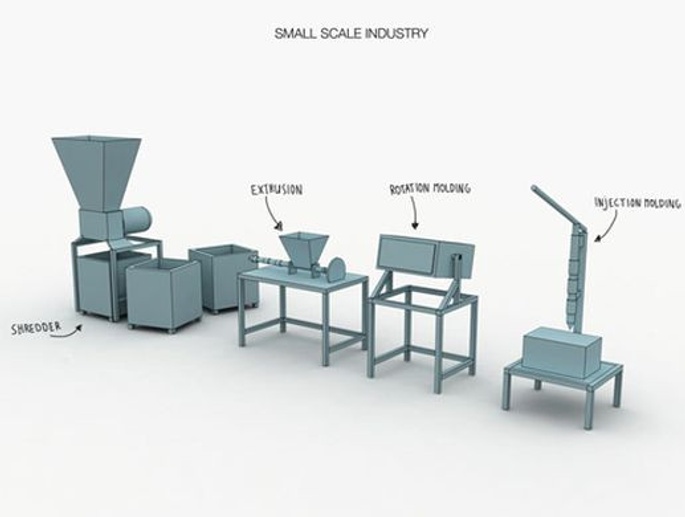 Budget : 3,500 USD
Here is a video presenting this technology : https://youtu.be/2KlW_WmV3Bw
PHASE 2: Setting the workspace
We already have the workspace! Only an extension needs to be built and some electricity basic work. This unused space can be "recycled" in a beautiful and creative workshop.
Budget: USD 800
PHASE 3: Start working!

We start the design of the molds, the collection of the waste, to produce our first objects, sell our production in the local market, and start working with the communities. Once the machines are correctly set up, we will start organizing trainings, workshops and environment awareness programs.
Budget: USD 2,000
PHASE 4: Dissemination of the method

We dream of a plastic-free environment, while creating work opportunities, enhancing knowledge on global warming and local health issues, and putting in the hands of the people the possibilities to make the objects that fit their reality.
In our network, our idea is to give value to waste while letting the local communities expressing their creativity.
Once our model works, we want to set up recycling units in the villages and encourage the trained people to start their own business. They make an income, clean their village, design the outcome according to their own needs, and spread awareness in their surroundings.
Budget: USD 1,700
Antenna Trust Team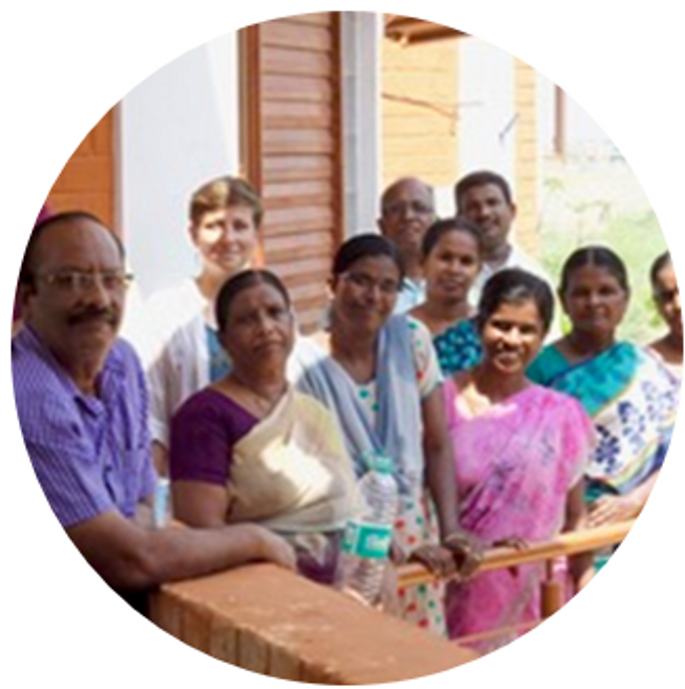 Our space is a beautiful Ecopark on the outskirt of Madurai, one of the most ancient cities of Tamil Nadu, Southern India.
We aim to have a holistic and coherent approach to the natural space adapted for human experience. We construct a learning space though a wide panoply of activities: spirulina farming, social microcredit, mediation center, training center, flower garden and lily pond, fit-trail, children forest games, medicinal plants, training center, zero-waste management, composting, model kitchen garden, plant nursery, birds watching, and more.
Now we want to push the dream one-step-further and have a full recycling unit as a major part of the activities in Ecopark.
We are 18 people working here. Some of us live in Ecopark and our involvement goes beyond our working hours. It is our passion and our lifestyle to sprout with new ideas and make this place a learning ground for our brothers and sisters.
Learning with and through nature is the key for social changes.