True, it took us more time than we planned, bit tougher than what we thought, but no excuse for the delay of this newsletter.
Amidst all, the good news… Our Plastic Recycling Unit Is Working !!! Yesterday some plastic was shredded and formed at our end.
Our 3 machines work: shredder with extruder, (a dual facility operated by a single motor) and oven for compression molding . Of course, tailoring the parameters along with different materials has been our amenity.
We have a new project Manager!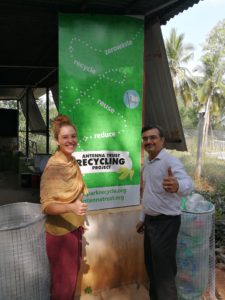 Dr. Sureshkumar from Madurai, PhD in Polymers obtained in Italy, highly dedicated towards achieving zero plastic contamination through recycling, is in our board.
What's next?
Yes, you are right, we are in the pipeline of developing new products as optimization of processing, and making new molds are geared up.
"A thumb up for Julie and Suresh working at our newly inaugurated PRU"
For those who helped in the crowdfunding campaign, wait a bit longer… We will deliver your gifts in April when Aurélie comes to Switzerland.
Stay tuned, we will keep you updated with frequency from now on.
Check our Facebook, check our website for daily updates
👉🏽 facebook.com/antenna.trust | www.antennatrust.org 👈🏽
Forever grateful for your help that makes all this possible,
Recycling Project team, Antenna Trust, Madurai, India